Academic study shows Yogi Bhajan's Kundalini Yoga is a fraud!
Academic study shows Yogi Bhajan's Kundalini Yoga is a fraud!
https://www.youtube.com/watch?v=DOp0O05dLrY&list=UUQDV5etGNZ9AnZ-3PnLklzw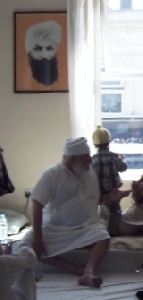 A recent academic paper has thrown new light on the origins of Yogi Bhajan's Kundalini Yoga, casting serious doubts on its supposed origins. https://www.youtube.com/watch?v=DOp0O05dLrY&list=UUQDV5etGNZ9AnZ-3PnLklzw
Sikh Formations: Religion, Culture, Theory
Volume 8, Issue 3, 2012
Special Issue:The 3HO Sikh Community
FROM MAHARAJ TO MAHAN TANTRIC
The construction of Yogi Bhajan's Kundalini Yoga
http://www.scribd.com/doc/140983448/Maharaj-to-Mahan-Tantric
"As opposed to the official history of Kundalini Yoga that claims it as an ancient and secret tradition prior to Yogi Bhajan's open teaching of it, this article argues that it was a bricolage created by Yogi Bhajan himself...."
Have you read Dr. Trilochan Singh's book from 1977 which is a very good critical analysis of Yogi Bhajan and his practices? The book was a real eye-opener for me! You can download the book for free at: http://gurmukhyoga.com/forum/index.php?mode=page&id=1
Best Book About Yogi Bhajan on the Market, January 3, 2013 Review by Scott Free - This review is from: Confessions of an American Sikh: Locked up in India, corrupt cops & my escape from a "New Age" tantric yoga cult! (Kindle only 0.99 cents) http://www.amazon.com/Confessions-American-Sikh-corrupt-ebook/dp/B00ANSWUPM/ref=zg_bs_158529011_1
Write Gursant Singh at Gurusant@hotmail.com for a free pdf copy.
Gursant Singh's recounting of his passage to India and out of a corrupt yoga empire is as enjoyable as it is compelling. This is a story of exploitation -- Gursant's victimization by his fraudulent master, Yogi Bhajan, and his own demoralizing work running scams to prop up the yogi's luxurious lifestyle. It's a quick-paced adventure that describes the ersatz Sikh lifestyle dumped on a clutch of white Americans and the peculiar dangers of the Indian bride trade.
The book revolves around Gursant's quest for a Punjabi marriage partner. His desire to acquire a subservient wife echoes Yogi Bhajan's tantric babble about men and women. If you've endured a Yogi Bhajan "teaching" on sexuality, you'll be dismayed, but not surprised, by his longtime student's view of women. Gursant's role as Bhajan's aide and bodyguard revealed the man his followers refuse to see -- a womanizer and a brute. Yogi Bhajan's round-the-clock use of a dozen female assistants is well-known. Those who question why the self-proclaimed leader of the Sikhs of the Western world required not just a personal harem but an armed security detail will find answers here. Gursant lays out his time among the sleazy operators and criminal hustlers swirling through Yogi Bhajan's Healthy Happy Holy Organization/3HO in some depth -- not enough intricacy for some of us, but doubtless far too much for the old charlatan's remaining devotees.
Fortunately, the book doesn't devolve into a personal Mea Culpa nor does it read like the diary of a starry-eyed seeker. The bizarre mishmash of Eastern aphorisms and yoga postures that Yogi Bhajan concocted made his Sikh Dharma group appealing to a small, lost tribe of the counterculture. Mercifully, Gursant was no hippie and he doesn't write like one. Yet his "Confessions of An American Sikh" makes the case for Sikh Dharma's inclusion as a footnote to '60s experimental spirituality. More importantly, this book is a fascinating look at the seamy side of the Indian marriage business and a frank exploration of life in a destructive, authoritarian group.
Gursant's tone is appealing whether he is describing the filthy interior of a lock-up in Amritsar or his posh daily luncheons with Yogi Bhajan on Rodeo Drive. His growing disillusionment with Bhajan's bogus spin on the Sikh religion comes to a climax while Gursant is trapped in India. He finds himself trying to emerge from two forms of imprisonment -- one physical and the other spiritual. Through it all, Gursant maintains his sense of humor and his innate faith.
This is an absorbing story for any reader. And it's a must-read for those caught up in Yogi Bhajan's 3HO/Sikh Dharma --ex-followers, Second Generation casualties, family members, law enforcement, cult researchers -- and for every Kundalini yoga student or Yogi Tea drinker, past or present. http://www.amazon.com/Confessions-American-Sikh-corrupt-ebook/dp/B00ANSWUPM/ref=zg_bs_158529011_1
This review of the Scholarly report in the video which shows Yogi Bhajan's Tantric / Kundalini Yoga is a fraud & Kundalini Yoga was Yogi Bhajan's own invention was posted on a discussion forum of ex Yogi Bhajan followers: "
http://forums.delphiforums.com/Kamallarose/messages?msg=2233.95
This article goes back and forth between what YB taught and YBers claim, and what the author, through investigation, has discovered to be true. Which is to say, he takes on many of their stretchers. He exposes their lies.
He exposes their lies just like we have been doing here for years, but he does it much better, of course.......continued