Money trail at heart of Sikhs' legal battle
She has asked for an accounting of those gifts, which could result in a determination that she is entitled to more of the remaining estate — and potentially more of the royalty stream, Soni said.
Yogi Bhajan directed that after his death, half of his estate would go to his wife, and half would go into a trust to benefit 15 assistants, who had served him loyally for years at very low wages and with no retirement benefits, Roberts said.
After conducting market research, Golden Temple determined that using Yogi Bhajan's likeness on its packaging wasn't benefitting sales, Roberts said. With royalties now being paid to Yogi Bhajan's widow and the 15 assistants, the money no longer supported the overall Sikh community, so the company exercised its right under the royalty contract to stop using Yogi Bhajan's likeness in 2008, Roberts said.
The Sikh community's third source of funding was from contributions from Golden Temple itself. The corporate restructuring and other actions by the defendants in the lawsuit helped shore up the Sikh community through a financial crisis, Roberts said. If Unto Infinity had not acted, the community's funding would have dropped from about $2 million a year to $400,000 a year, he said.
A hearing on the business leaders' motion to dismiss the lawsuit against them is scheduled for March 12.
Roberts said he believes the court ultimately will dismiss the case, and that if there are questions about Unto Infinity's actions, the proper authority to investigate is the Oregon Attorney General's office, which regulates charitable organizations.
"We have been answering and continue to answer any questions that the attorney general may ask," Roberts said.
The attorney general's office is following the case and talking to counsel for both sides, spokesman Tony Green said.
"It's a moving target, and we're trying to figure out whether there's a role for us, and, if so, what it's going to be," he said.
In its lawsuit, Sikh Dharma International alleges Khalsa and his associates consistently acted in their own self interest — not in the interest of the Sikh community.
They allege that Unto Infinity gave Khalsa a big raise at the same time they fired more than 25 people at the Sikh community's nonprofit groups, citing the need to cut costs.
In an earlier complaint filed and dismissed last year, Sikh Dharma International alleged that Khalsa's compensation (as reported to the IRS) jumped from about $125,000 in 2002, to $205,000 in 2005, to $470,000 in 2007, to $850,000-plus in 2008.
Roberts said Khalsa receives a salary and bonus, "the same way that all executives do," but that he doesn't know the exact amounts.
The $125,000 figure in 2002 "sounds in the ballpark" he said, but "I would be very surprised if it were $850,000 in 2008."
"If he were paid that kind of money, that would come up in the attorney general's investigation," Roberts said. "They're going to ask for that kind of information about all of the defendants."
As for the layoffs, Unto Infinity explained to the Sikh community's religious and educational nonprofit groups that for reasons unrelated to Golden Temple, less money was available, and the groups decided who would be laid off, Roberts said.
See more photos and discussion on facebook at:
http://www.facebook.com/album.php?aid=108156&id=1214270541&l=5a22781e63
"Amid the legal infighting following Yogi Bhajan's death, critics are offering another portrait of the Sikh leader."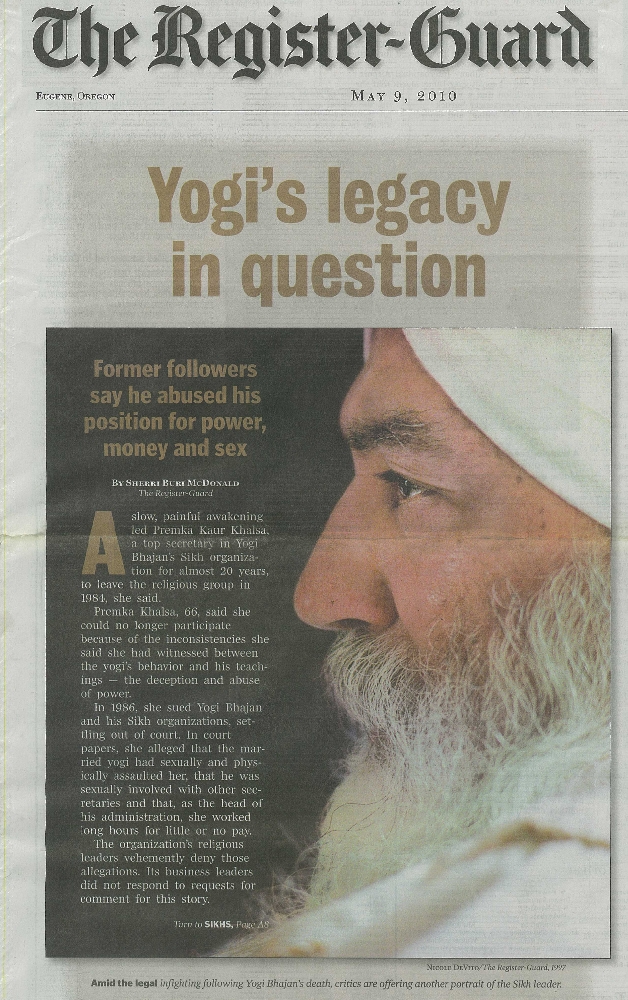 ---