Sikhs demand an apology from SikhNet for promoting Gurmukh Kaur Khalsa who worships idols !
Sikhs demand an apology from SikhNet for promoting Gurmukh Kaur Khalsa who worships idols ! Gurmukh Kaur Khalsa should drop her Sikh name & change her name to Shiva Dasi Devi; that would be more in keeping with her Hindu practices.
Sikhs before you donate to SikhNet know the truth about idol worship by kundalini yoga teacher Gurmukh Kaur Khalsa ! Gurmukh Kaur shown in the video chanting & worshiping Hindu idols needs to be denounced by SikhNet in order to show Gursikhs that SikhNet is committed to Sikh Reht rather than Yogi Bhajan's tantric yoga! You can see the Hindu idol at 3:03 in the video: http://vimeo.com/62006241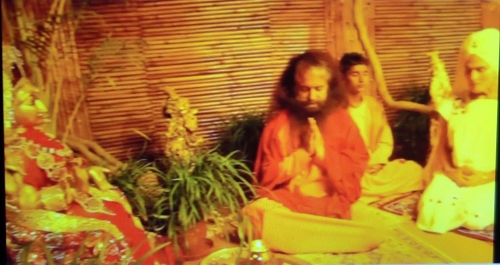 "SikhNet blatantly promotes anti Sikh practices of Gurmukh Kaur Khalsa"
http://gurmukhyoga.com/forum/index.php?id=371

In this latest article published by SikhNet, SikhNet blatantly supports and promotes Gurmukh Kaur Khalsa and her anti Sikh activities!http://www.sikhnet.com/news/gurmukh-kaur-coming-edmonton
SikhNet needs to follow the Sikh Reht & stop promoting Gurmukh Kaur Khalsa who is used as a "Poster Yogi" by Parmarth Niketan Ashram. http://gurmukhyoga.com/forum/index.php?id=374
Just read this update on Gurmukh Kaur's facebook page. Please note the people who are commenting and her posts. There doesn't appear to be any Sikhs posting or anything about Sikhism but rather Gurmukh gives her chelas false hope in the Vedic "akashic records" and some "magical Aquarian Age" date of 11-11-11. I don't know why Gurmukh doesn't change her name to Shiva Dasi Devi; that would be more in keeping with her practices. http://www.facebook.com/GurmukhKaurKhalsa?sk=wall&filter=1Status
Update
By Gurmukh Kaur Khalsa
We are supposed to be in a period where all your thoughts can move all over the place into realms of what you are going towards in your destiny. After November 4, 2011, whatever you have wished for, envisioned for your destiny, what you want to achieve to fulfill your life, will be set in the akashic records for 29 years.
So take the time now to write down what it is you want to achieve, what is important for your happiness and your destiny, and project into the future for 29 years.
You can edit the list until next week on Friday.
Take the list home and put it into a holy book, or on their altar, under their prayer book, etc, to purify the wishes and visions. Rework them as you see fit.
You don't have to know all the details for your visions and wishes. Just the general concept.
Sat Nam
Gurmukh Kaur Khalsa is an embarrassment to the Khalsa panth. Gurmukh has been photographed doing Hinduhoma fire pujas and doesn't even wear a Sikh kara. Even in the pic above which SikhNet so blatently publishes shows Gurmukh Kaur doing homage to the sun in Rishikesh on the river Ganga where you can see a Hindu temple in the backgroud of the pic. How can Sikhnet support this anti Sikh woman?
http://gurmukhyoga.com/forum/index.php?id=307
I pray Gurmukh Kaur will visit the small Gurdwara on the banks of the Ganges at Haridwar, called Gian Gothdri, which marks Guru Nanak's visit there.
When Guru Nanak saw people doing puja to the sun, as is Gurmukh Kaur in this picture, he asked what they were doing. "We are giving water to our thirsty forefathers who live on the sun", they said. So, he also waded into the river and started doing likewise but facing in the opposite direction. Everybody laughed at him and said, "Don't you even know which way the sun is?" He replied, "I've been away from my farm in the Punjab for quite some time and my fields are probably parched, so I thought I should take this opportunity to water them (in the west)". They all laughed some more and said, "Silly fool, Punjab is hundreds of miles away and this water is just falling a foot away right in front of you." Guru Nanak replied, " Oh, but I thought the sun was much further away?" A few probably understood what Guru Nanak was getting at, and stopped doing that futile nonsense, but most, like Gurmukh Kaur, carried on still blissfully ignorant.
"Jab lag Khalsa rahe niara. tab lag tej dio mai sara.
jab eh gahe bipran ki reet. mai na karo in ki parteet".
"So long as Khalsa retains his distinct identity, I will give him my entire radiance and strength. But if he should take on a non-Sikh way of life, then I shall have no confidence in him and withdraw my support and protection". Guru Gobind Singh Ji
EVERY Sikh is representative of the Guru and the Khalsa Panth, especially one who is in the public eye. If they behave in a way that breaches SRM (Sikh Rehit Maryada) the whole Khalsa suffers.
Let us look at Gurmukh Kaur Khalsa's name, the one whom SikhNet & 3HO so blithely dismiss as "a popular Yogini". Her first name is Gurmukh. Forget the nonsensical Yogi Bhajan translation; Gurmukh is a very powerful word from Gurbani, meaning that person whose face is forever turned towards the Guru. And that means Guru Nanak and his successors, not some Hindu Swami the demigod Shiva or the Mother Ganga river. Sometimes in Gurbani, Gurmukh refers to Guru Sahib himself.
How can a Gurmukh be doing Hindu puja?
Second name is Kaur, meaning a princess of the khalsa. The last name is Khalsa. Anyone who calls themselves Khalsa MUST live as a reflection of Guru Gobind Singh ji and his rehit. Otherwise they should call themselves something else.
She can do as much Hindu puja as she likes but she should spare the Khalsa the embarrassment of having to see it plastered all over the internet. It is absolutely against SRM and is very insulting to the Khalsa and indeed to all Sikhs, especially those whose relatives were slaughtered and raped by Hindus in 1984.
I don't know why she doesn't change her name to Shiva Dasi Devi; that would be more in keeping with her practices.
---