Harijiwan Singh Khalsa, Yogi Bhajan's Chief of Protocol says he and Yogi Bhajan were just attending to busniess!
Harijiwan, tell Sikhs what kind of business you & Yogi Bhajan were "attending to". What, cat got your tongue. Well let me elaborate for you: Your photo shows Yogi Bhajan and yourself Hari Jiwan buying and selling gem stones and jewellry at Jerry's on Beverly Drive in Beverly Hills California, a favorite spot for your's and Yogi Bhajan's business activities.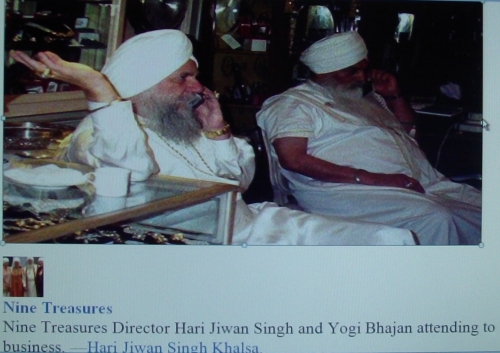 In June 1997,one year after this photo was taken, the Federal Trade Commission filed charges against Hari Jiwan. (Taken from an FTC press release) Hari Jiwan Singh Khalsa, also known as Stephen Jon Oxenhandler, a/k/a Bob Thomas; as part of "Project Field of Schemes." This law enforcement effort comprised of approximately 61 law-enforcement actions. In its complaint detailing the charges, the FTC alleged that the defendants routinely misrepresented the risk, value, appreciation and liquidity of the gemstones they sold and falsely claimed that consumers would realize tremendous profits. In addition, the defendants falsely pledged that they could and would easily liquidate consumers' gemstone portfolios after an 18-month holding period. In fact, according to the FTC, the defendants typically ceased all contact with consumers and refused to liquidate their gemstones after the 18-month period. Shortly after the complaint was filed, the court issued a temporary restraining order, froze the defendants' assets and appointed a temporary receiver over the corporate defendants.
I went to Jerry's shop in Beverly Hills with YB and HJ almost every day as I was on YB's security. I also took Shakti Parwha Kaur to Wells Fargo bank on Wilshire Blvd in Beverly Hills about three times a week to get gems and a new set of YB's jewellery that he would adorn himself with for that particular day depending on what the astrological stars said he should wear. Shakti would say, "Let's go get the crown jewels." When Shakti and I entered the room at the bank to open the numerous safe deposit boxes full of the precious stones, I was shocked the first time I saw the outrageous amount of trays displaying these huge gemstones.
Around the year 2000, Yogi Bhajan tried to personally sell me a yogic ring for several thousand dollars. We were at Hari Jiwan's house in Espanola where HJ keeps a vast collection of gems worth millions of dollars. Yogi Bhajan told me. "You're naked." And he stated I needed a ring with a particular stone to protect me.
Read more about my experiences with Yogi Bhajan in my book "Confessions of an American Sikh" which has been described as "the best book about Yogi Bhajan on the market!" availbale on Amazon books for only .99 cents. http://www.amazon.com/Confessions-American-Sikh-corrupt-ebook/dp/B00ANSWUPM/ref=zg_bs_158529011_2
---