Tell South Carolina Senator Knotts Sikhs Are Not "Ragheads"
Tell South Carolina Senator Knotts You Are Not a "Raghead"

June 4, 2010 (Washington, D.C.) -- This morning the Sikh American Legal Defense and Education Fund (SALDEF) called upon South Carolina State Senator Jake Knotts to apologize for racist remarks he made yesterday. On a local internet talk show, Pub Politics, Senator Knotts said, "We've already got a raghead in the White House, we don't need another raghead in the governor's mansion," about President Barack Obama and a candidate for governor in the upcoming elections in South Carolina and
Join SALDEF in asking South Carolina Republican State Senator Jake Knotts to apologize for the unmerited and hate filled comments that he made yesterday referring to both President Barack Obama and South Carolina State Representative and Gubernatorial candidate Nikky Haley as ragheads.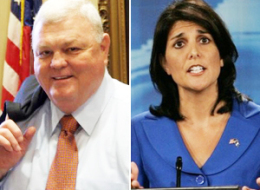 TAKE ACTION -- SEND A MESSAGE TO SENATOR KNOTTS TODAY!
In an attempt to backtrack from his outlandish comments, Knotts went on to say that "My 'raghead' comments about Obama and Haley were intended in jest. Bear in mind that this is a freewheeling, anything-goes Internet radio show that is broadcast from a pub. It's like local political version of Saturday Night Live."
In another failed attempt to rationalize his comments, Knotts said, "Since my intended humorous context was lost in translation, I apologize. I still believe Ms. Haley is pretending to be someone she is not, much as Obama did, but I apologize to both for an unintended slur."
"There is no place for comments like this is any situation, especially by political officials and public servants, and we are disappointed in Senator Knotts," said SALDEF Associate Executive Director Jasjit Singh. "Such divisive comments only serve to further weaken the diversity that has made our country so strong. Racial slurs are unacceptable no matter the supposed intent of humor. We call on Senator Knotts to offer a real apology for his divisive comments and recognize the hateful nature of the term 'raghead'."
JOIN US AND TELL SENATOR KNOTTS THAT HIS APOLOGY IS NOT ENOUGH
Since the tragic events of 9/11, Sikh Americans and others have been the victims of discrimination, bias motivated attacks, and hate crimes because of their perceived ethnicity or religion. Terms such as "raghead" have been a common feature in these incidents of harassment.
SALDEF is deeply concerned with comments like these that consistently try and categorize Sikh Americans, or anyone of Arab, Muslim or South Asian descent, as being un-American or having intentions to harm the country.
Read More about this Issue:
- Knotts' slur stirs the Haley storm (The State)
- Knotts' 'Raghead' Remark: Haley and Obama Called Racial Slur (Huffington Post)
- SALDEF Press Statement
- SALDEF Letter to Sen. Knotts


About SALDEF
Founded in 1996, SALDEF is the oldest Sikh American civil rights and educational organization dedicated to protecting and promoting the civil rights of Sikh Americans through advocacy, education, and media relations. SALDEF's mission is to create a fostering environment in the United States for future generations of Sikh Americans.
Contact SALDEF
Sikh American Legal Defense and Education Fund (SALDEF)
1413 K St, NW, 5th floor
Washington, DC 20005
Phone: 202-392-2700
Fax: 202-318-3344
Web: www.saldef.org
Email: info@saldef.org