Sikhs need self defense training with assault rifles. US Sikh moves court against California gun law - The Times of India
US Sikh moves court against California gun law -
The Times of India Rohan Dua, TNN | Apr 8, 2013, 04.42 AM IST
http://timesofindia.indiatimes.com/nri/us-canada-news/US-Sikh-moves-court-against-California-gun-law/articleshow/19436610.cms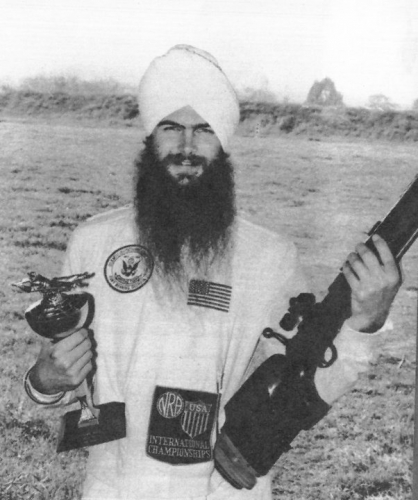 CHANDIGARH: A US-based baptised Sikh Gursant Singh Khalsa has filed a lawsuit against the state of California, saying its gun law is "stopping me from fully practicing my religion by not allowing me to own and use assault rifles and high-capacity magazines".
According to California's laws, military-style, semiautomatic weapons and high-capacity magazines are banned in the state.
Gursant, who offers classes in fireams training, rifle use, self defense and the security of Sikh gurdwaras across the United States and Canada, has abundantly mentioned the doctrines of tenth Sikh master Guru Gobind Singh and tenets of Sikh religion to argue his case in the federal court of California.
The suit was filed in March last week and the case is set to be heard on April 13.
"The Sikh doctrine requires Sikhs be fully prepared all the time to defend themselves and others against injustice. Our Sikh master Guru Gobind Singh instructed Sikhs that without uncut hair and weapons, they should not come before me," the lawsuit pointed out.
It said, "I feel my religion dictates that we should all have weapons of all kinds to defend ourselves. By not being able to carry an assault rifle or weapon that has a high-capacity magazine, I don't feel that I can defend myself or my family."
Gursant also pointed out that some practicing Sikhs already carry a popular religious weapon called kirpan or dagger for protection.
The lawsuit has also made explicit references to the attack at the Wisconsin gurdwara on August 6 last year.
"If assault weapons were legalized in California, the loss of life in mass shooting tragedy in Wisconsin in July last year could have been averted," Gursant is quoted as saying in the lawsuit.
Seven people, including a US police officer and six Sikhs, had been killed in the shooting at the gurdwara.
"We believe in self defense and standing up for our rights. And to defend oneself, if necessary, use lethal force," he added.
Gursant, who is a son of a US Marine Corps officer and was five times in the running for the US Olympics rifle team, said such a right should be available to all Americans with proper training.
Guru Gobind Singh Ji gave his Sikhs a high standard to live by. It is a noble challenge and we need to protect the right in the United States of America to be able to live to the Guru's great character, high standard of responsibility and discipline of carrying firearms, the sword of God, if you will. I have always said in all my videos and writings that everyone who carries a firearm should have proper training and education while having the wisdom to know when and when not to use this deadly force. But having said that, we cannot shy away from this responsibility of being Khalsa or live in fear that we may make mistakes. If we are to live as Khalsa, we need to be lions and look to the Guru for guidance and strength while carrying firearms. http://www.youtube.com/watch?v=fvrNP2Cf48I