Did Mahan Tantric Yogi Bhajan spawn anti Sikh Tantric sex yoga groups & inspire sexual depravity?
Did Mahan Tantric Yogi Bhajan spawn anti Sikh Tantric sex yoga groups & inspire sexual depravity? http://youtu.be/qZNen03XlVQ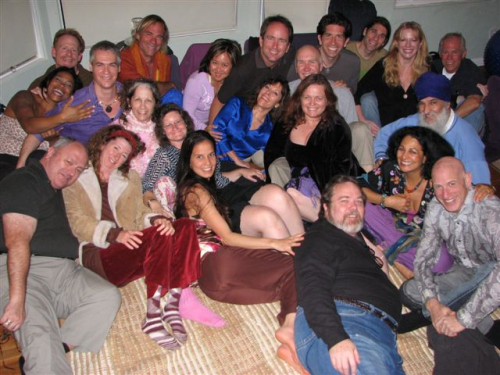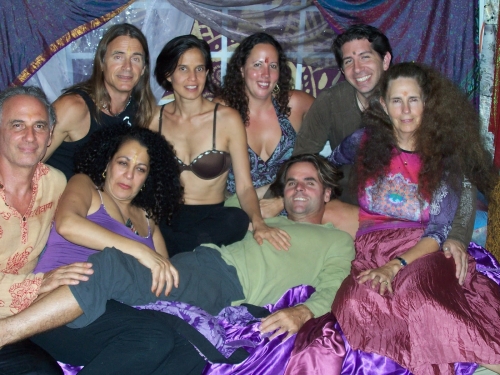 Be sure to watch the second video in this series at: http://youtu.be/ypebS6erPu4
Recently I received an alarming letter from a former yoga student with ties to Yogi Bhajan. This person has lived in California and was aware of the scandalous behavior of some of Yogi Bhajan's current followers in Southern California and of the activities of a former Yogi Bhajan 3HO group member in Arizona.
This person wrote: "A few years ago there were arrests made at two goddess temples in Arizona. These are tantric sex temples run by the International School of Temple Arts. Phoenix police made arrests in Phoenix and Sedona Arizona and charged temple members with prostitution... You need to be aware of these people... I think this deviant sexual behavior shows that Yogi Bhajan's sexual tendencies did have ramifications for some of his cult members past and present."
Well, I'm sorry to say that is the case. And in this video I would like to take a look at this situation in Arizona and California.
http://verdenews.com/main.asp?SectionID=1&SubSectionID=1&ArticleID=43738
From 2009 to 2011 the Sedona temple was managed by former Yogi Bhajan follower Seva Khalsa. Seva Khalsa describes himself as a "sexual healing practitioner" and sex coach.
http://www.loveandsexmastery.com/about-us.html
https://www.facebook.com/events/100406496758217/
https://www.facebook.com/seva.khalsa
Seva Khalsa brags that he was "lucky enough train in White Tantra for 20 years with Mahan Tantra Yogi Bhajan" when Yogi Bhajan was conducting his White Tantric Yoga workshops in person. Seva Khalsa also is proud of his "15 plus years" of practicing Kundalini Yoga. That's in addition to listing a rundown of his sexual history which involves non monogamous relationships - called polyamory.
For Seva to use the Sikh name Khalsa is offensive. And in my opinion it degrades the name Khalsa. Seva Khalsa is not a Sikh and this behavior insults the name Khalsa
Seva is friends with another School of Temple Arts sex worker, a woman called Kamala Devi who runs a tantric group in San Diego. In the video she is making a fundraising plea for bail money for the Arizona temple members who were charged with running a brothel. Seva Khalsa comments that Kamala Devi's plea for bail money "brought tears to his eyes."
https://www.youtube.com/watch?v=KLpgn8swgCU&feature=player_embedded
Unfortunately this sick world of tantric sex in California includes at least two current Yogi Bhajan followers. Longtime 3HO members who have taken Yogi Bhajan's concocted teachings about sexual energy a few steps farther. A lot farther.
White Tantric Yoga is a big business for 3HO. It generates income and is a required course for yoga students who want to be certified to teach "Kundalini Yoga As Taught By Yogi Bhajan." The fee for a White Tantric course is in addition to the tuition charged for taking Kundalini Yoga Teacher Training which can run as high as $3000.
Now I want to make it quite clear here that the White Tantric Yoga Courses do not include ANY sexual contact. And in fact Yogi Bhajan required that his students be celibate until marriage. He arranged marriages for his students, often to strangers. Then he told his followers that marital relations were to occur only once a month. This was another way for Yogi Bhajan to control the members of his cult.
In my experience, Yogi Bhajan's followers are monogamous and faithful to their spouses. I never saw any orgies or anything remotely like that when I was in 3HO. And I was a member for 30 years. As an orthodox Sikh, I certainly have objections to unmarried men and women touching one another and engaging in Un- Sikh -like behaviors. There is plenty of that in 3HO as I have pointed out countless times in my online work and elsewhere.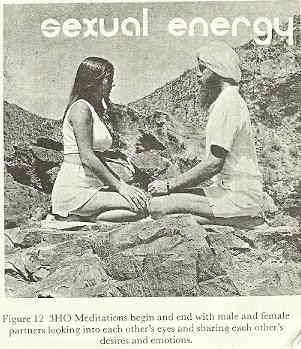 Yogi Bhajan told his followers that he was celibate - despite having a wife, Bibiji, and three children. And we all believed him. Now we know that over the years there have been many allegations that Yogi Bhajan was not at all celibate. And that he engaged in relations with his female assistants. As a personal aide and body guard to Yogi Bhajan for decades I can vouch for the fact that he slept in the same bedroom with female members of his secretariat.
http://projects.registerguard.com/csp/cms/sites/web/news/cityregion/24671927-41/yogi-khalsa-bhajan-leaders-members.csp
"Yogi Bhajan is using the sacred Sikh mantras and the sacred name of Guru Ram Das as a mantle for his Tantric Sex Yoga which will inevitably lead to mental and physical debauchery of those who take his brand of Sikhism contaminated by crazy sex-energizing asanas seriously." Dr. Trilochan Singh from his book "Sikhism and Tantric Yoga" 1977 a critical look at Yogi Bhajan's tantric / kundalini yoga.
available as an audio book at http://www.youtube.com/watch?v=2ySYyuWi0Z0 or as a free pdf at http://gurmukhyoga.com/forum/index.php?mode=page&id=1
---